Meekers Medical is the sole representative of LUCINI in the Netherlands.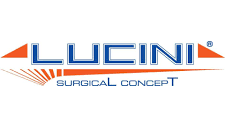 Lucini is an Italian manufacturer of furniture aimed at transport, storage and management of medical devices. It concerns furniture and fittings with extensive technical-functional features and a high quality level

Effective
Products are designed for the specific intended use
---

Versatile
Products have multiple use cases and can be used in various departments.
---

Hygienic SA.FE® Technology
The design and material used have anti-bacterial properties that prevent the adhesion and accumulation of dirt, both organic and inorganic.
---
Environmentally friendly
Production, distribution and disposal cycles are designed to be compatible with the user environment and the natural environment.
---

Durable
Products are designed for intensive use and long-term durability.
---

Environmentally friendly
Production, distribution and disposal cycles are aiming for compatibility with the user environment and the environment
---

Sustainable
Products are designed for intensive use and have a long durability
Quality assurance


  ISO 9001:2015


  ISO 13485-2015


  93/42 EEG | CE


  FDA