Meekers Medical is the exclusive Dutch distributor for LUCINI.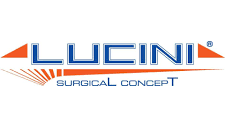 LUCINI manufactures devices and technologies designed to provide maximum value to the surgical procedure. Therefore they are excellent in every other context in which the main aim of Health Operators is to restore and improve men's health. The devices, technologies and environments that interact with the surgical procedure must be excellent so the procedure could generate maximum value.
Go to LUCINI products directly

Effective
Products are designed for the specific intended use
---

Multidimensional
Products could be used in various departments
---

Hygienic SA.FE® technology
The design and used materials have antibacterial properties which prevent the adhesion and accumulation of dirt, both organic and inorganic.
---
Use
Effectiveness, efficiency, safety and satisfaction are guaranteed, even when intensively used.
---

Universal
Products are suitable and interchangeable with other brands and types of devices
---

Environmentally friendly
Production, distribution and disposal cycles are aiming for compatibility with the user environment and the environment
---

Sustainable
Products are designed for intensive use and have a long durability
Quality guarantee


  ISO 9001:2015


  ISO 13485-2015


  93/42 EEG | CE


  FDA